Join the Denino's family and Live the American Dream!
New York Pizza makers since 1937.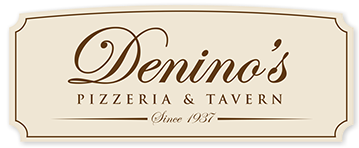 Since 1937 – More than 4 generations of New York style Pizza Pie
baked in our ovens – Join us, the Denino's family of pizza makers!
Denino's Pizzeria opened in 1937, nearly 80 years ago so we know what we are doing. Join our family and we will teach you everything you need to know to create an authentic NY style pizza pie. Every day we make our own dough, from scratch. No frozen shells on a conveyor belt. Real dough. Tossed and flipped until it is ready to be baked crispy and thin with our secret sauce and blended cheeses. Covered with our customers' selection of toppings – we offer all the traditional favorites along with our own custom mixes like Denino's MOR™ Pie (Meatballs, Onions and Ricotta). Always simple. Always fresh ingredients. That's how we plan to keep it. Trust us, that's the way you want to keep it, too.
Are you hungry yet? Hungry for an opportunity to
join one of America's oldest families in the pizza industry?
Apply Today!

Denino's Pizzeria is a landmark in New York, with our award winning, thin-crust pizza.
We originally opened in 1937 as a full tavern on Richmond Avenue, Staten Island until Carlo Denino introduced Pizza in 1951. Since then, Denino's Pizzeria and Tavern has been renowned for our pizza pie and Italian dinner platters, which we always prepare fresh daily. We use our family's recipes for Chicken Parmigiana, Meatballs and Sausage and over the years we've added our own version of tavern favorites like Wings, Scungilli and Hero Sandwiches.
Everything is always made from scratch, never frozen, and cooked to order.
Whenever New Yorkers come home, they come home to Denino's Pizzeria
for thin crust, crispy, Cheesy Pizza piping hot right out of the oven.
When you Join the Denino's Family you are becoming a part of the
Denino legacy that started nearly 8 decades ago.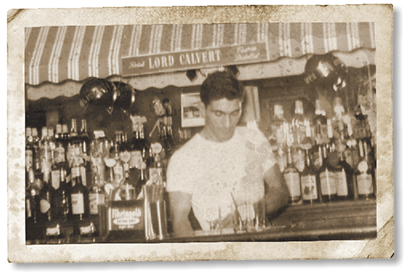 Carlo Denino at the original Denino's Pizzeria & Tavern
in Staten Island, NY. Circa 1944.







Pizza is big business!
Over $32.5 Billion per year in sales*
*2013 Statista.com
61% of Americans prefer thin crust pizza*
*www.statisticbrain.com/pizza-statistics


Pizza is one of America's favorite foods!
NY style pizza is most popular based on the old world Neapolitan original recipe. Of course Denino's has made our own recipes and cultivated OUR WAY of making the best NY style thin crust pizza and we have the awards to prove it!
Sales Categories
It shows that there is a good mix of sales by these
3 categories, all of which we offer for our customers.


Yes, there are nearly 70,000 pizza shops in the US*
*www.statisticbrain.com/pizza-statistics
...but none can offer our recipes and our proven 80-year track record!
We have generations of the right experience. We are ready to share our secret family recipes and show you how to make the pizza that hundreds of thousands of New Yorkers have loved for years. Open your own Denino's Pizzeria in your town. You will have a protected territory, access to the traditional Denino's Pizzeria operating system and our dedicated on-going, hands on support. We are 4th generation pizza makers in the Denino family and we will help you open, launch and build your own pizzeria.
Find out what our ratios are when you come into learn
more about our proven Denino's Pizzeria operating system.

FREQUENTLY ASKED QUESTIONS

How do you become part of the family? At Denino's you have to ask and then you have to tell us why you want to become a part of our longstanding tradition.
When you apply for ownership, we will review your ability to run a Denino's Pizzeria. We are tough on our family because we need to uphold our family name. Once we know you will be the right fit, we will make sure to teach you everything we know.
Our comprehensive training is held over a 2 week period and includes hands on elements like pizza making and creating each of our signature platters. We cover operations management instruction and will teach you how to find, manage and cultivate your staff.
Training is held at both of our family owned pizzerias in Staten Island, NY and Brick, NJ. We will show you how to set up your kitchen, manage the dining room, control inventory while making sure that you and your staff are ready to make each and every one of our proprietary family recipes.

Estimated Investment Costs:
Denino's Express: $332,600 to $449,800
Denino's Pizzeria: $604,100 to $854,600
Denino's Pizzeria and Tavern: $847,100 to $1,117,500
This is inclusive of the $45,000 initial franchise fee.
Development Territory Agreements are Available!
• Ongoing 6.0% Royalty with declining scale
as your sales increase.
•  Up to 2% Brand Fund.
• Min Grand Opening expense of $5,000.
• Initial term of 10 Years + (1) 10 year renewal term available.


Want to learn more about ownership of a New York landmark brand?
Join us and take the next step toward becoming a part of the Denino's family!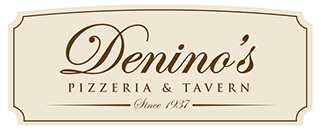 Denino's Franchising, LLC
524 Port Richmond Avenue
Staten Island, NY 10302
For more info call Mike Burke:
347-897-5490
This information is not intended as an offer to sell, or the solicitation of an offer to buy, a franchise. It is for information purposes only. Currently,
the following states regulate the offer and sale of franchises: California, Hawaii, Illinois, Indiana, Maryland, Michigan, Minnesota, New York, North Dakota, Oregon, Rhode Island, South Dakota, Virginia, Washington, and Wisconsin. If you are a resident of or want to locate a franchise in one of these states,
we will not offer you a franchise unless and until we have complied with applicable pre-sale registration and disclosure requirements in your state.
Franchise offerings are made by Franchise Disclosure Document only.
THIS ADVERTISEMENT IS NOT AN OFFERING. AN OFFERING CAN ONLY BE MADE BY A PROSPECTUS FILED FIRST WITH THE DEPARTMENT OF LAW OF THE STATE OF NEW YORK. SUCH FILING DOES NOT CONSTITUTE APPROVAL BY THE DEPARTMENT OF LAW.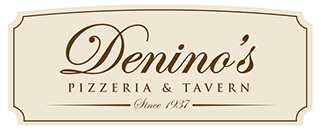 ©2015 Deninos Franchising, LLC